News
You Can Experience a LOT of Canada This Week in South Georgian Bay
22/06/17
But why wait to start the party? Salsa at Blue is this weekend!
JUNE 20 - 24
OH CANADA, WE SING FOR THEE
COLLINGWOOD
Let's celebrate Canada's 150th Anniversary together, right before Canada Day! This patriotic concert will delight audiences of all ages, with music from such Canadian icons as Shania Twain, Anne Murray, The Nylons, Joni Mitchell, Neil Young, Ian & Sylvia, Rita McNeil, and many more. Oh, Canada celebrates the brilliant Canadian songwriters and creative artists that give our great nation it's musical heart and soul. Presented by Theatre Collingwood. More Info
JUNE 23
SAIL GEORGIAN BAY KICK'S OFF 2017 SEASON
MEAFORD
Come out and join Meaford's Community Sailing School as we kick off the 2017 season with an Open House. Sail around the harbour with our qualified coaches. Never been in a sailboat? That doesn't matter - it's all about the fun of trying a new experience. Just show up at our boathouse in Meaford harbour, be prepared to have fun, and get a little damp. More Info
JUNE 23
JAZZ AT THE LIBRARY
THE BLUE MOUNTAINS
Please welcome to the L.E. Shore Library, the John MacMurchy Trio featuring Jocelyn Barth. John is a Collingwood native and plays jazz standards seldom heard on clarinet and saxophone. He is accompanied by Andy Harasymczuk on guitar, Jack McFadden on bass, and Jocelyn Barth on vocals. More Info
JUNE 23 - 25
SALSA AT BLUE
THE BLUE MOUNTAINS
Muy Caliente! The 9th annual very hot Ontario Salsa tour returns to Blue Mountain. A family street party transforms the entire Village into a showcase of Latin life with pulsating music, passionate dancing, and fireworks. More Info
JUNE 24
CYCLE FOR SIGHT
CLEARVIEW
The Foundation Fighting Blindness' fastest growing fundraiser is gearing up for another action-packed, one-day cycling event. All riders must register for $25 and raise a minimum of $600. Choice of distances: 50 km, 100 km, 150 km (all loops rides starting and finishing at Creemore Brewery). More Info
JUNE 24
SAINTS & SINNERS TASTE OF THE TRAIL
SURROUNDING AREA
Taste your way around the trail featuring samples, food, live music, saints & sinners sale and artefacts, at the Moreston Heritage Village @ Grey Roots Museum. More Info
JUNE 24
BEACH PARTY BOYS - TRIBUTE TO THE BEACH BOYS
COLLINGWOOD
The Olde' Town Terrace presents The Beach Party Boys bringing you the fun fun fun of California's Summer Sun and the great music of The Beach Boys to life. Beach Party Boys reproduces the musical instrumentation, authentic look, and harmony of the Beach Boys themselves. Audiences will be singing along to their favorites like Barbara Ann, Help Me Rhonda, Surfin' USA, Fun Fun Fun, Little Deuce Coupe, and Good Vibrations. More Info
JUNE 24 - 25
THE FLY FISHER'S COMPANION
MEAFORD
Optimistic poet Wes and testy businessmen Don have returned to the fishing lodge they built after the war for one last trip to cast their lines. It is intended to be a weekend of fly fishing and bonding-two things the estranged buddies haven't done in ages. A pressing issue hastens the need to resolve decisions made by both over the years. Presented by Meaford Theatre Company at Meaford Hall. More Info
JUNE 24 - 25
BAGGATAWAY LACROSSE FESTIVAL
SURROUNDING AREA
The Toronto Rock in partnership with Sainte-Marie among the Hurons will play host to the Baggataway Lacrosse Festival, as part of the Ontario 150th programming. Come catch the experience of Canada's National Summer Sport set against the backdrop of Sainte-Marie among the Hurons! More Info
JUNE 25
BEAUTIFUL JOE'S OLD FASHIONED FAMILY FUN DAY
MEAFORD
Beautiful Joe's Old Fashioned Family Fun Day, in partnership with the Meaford Library at Beautiful Joe Park, will feature best dressed pet competiton, police canine unit demo & dog training tips, tug of war and reading in the park. More ongoing activities include a scavenger hunt, 3-legged race, ball toss, rock painting, tricks for Joe, photo opps & more. More Info
JUNE 27
JAZZ IN THE PARK
WASAGA BEACH
Jazz in the Park returns for its 16th season, at the Oakview Woods Gazebo or the Rotary Band Shell behind the RecPlex each Tuesday evening. More Info
JUNE 28
LOCAL LIVE LUNCH
COLLINGWOOD
Looking for something to take away the mid-week blues? ...If so, then mark each Wednesday this summer on your calendar and join us in Downtown Collingwood for the return of Local Live Lunch, with live musical performances in the Sheffer Court outdoor plaza area. You can also purchase your lunch on location, prepared by a different presenting restaurant each week. More Info
JUNE 28
JAZZ & BLUES AT THE STATION
COLLINGWOOD
Modern day music grew from the roots of Blues, Jazz, Country and Gospel and those roots show up every Wednesday evening at the Museum/Station during the Collingwood summer. Great music and superb sound production in an intimate park-like setting makes for a memorable evening. Excellent food and beverages raise the enjoyment level another few notches and with a beautiful sunset over Georgian Bay, it is certainly a wonderful experience. More Info
UNTIL JUNE 29
ECO ADVENTURE TOUR SPECIAL AT SCENIC CAVES NATURE ADVENTURES
THE BLUE MOUNTAINS
Experience treetop canopy walking and ziplining on a 3-hour guided tour at a discounted rate of $20-off during June. (Applicable Sunday – Friday; n/a Saturday) More Info
UNTIL JUNE 30
RIDE GUIDES 2 FOR 1 TOURS
THE BLUE MOUNTAINS
For Bike Month, Ruide Guides are offering 2 for 1 tours of Three Stage. Boo a 3 hour tour for 2 people for only $70 + HST. More Info
JUNE 30 - JULY 1
CELEBRATE CANADA'S 150TH IN THE BLUE MOUNTAINS
THE BLUE MOUNTAINS
Bring the family for all kinds of Canada 150 activities for the young and young at heart. Dine with us featuring Black Angus BBQ, Culinary Designs Taco Stand, and a bar. Dance to an amazing local band, and end the night with a large fireworks display. More Info
JUNE 30 - JULY 2
COLLINGWOOD FESTIVAL FOR CANADA
COLLINGWOOD
Start the celebrations in Downtown Collingwood with the famous Canada Day Pancake Breakfast, then take part in the Citizenship Reaffirmation Ceremony. The grand finale to a perfect day comes with the explosion of lights and colour filling the sky over the harbour when the Canada Day fireworks. With more than 25 different activities during this long weekend, there will be lots of play in Collingwood during this three-day Festival for Canada. More Info
JUNE 30 - JULY 2
MEAFORD CANADA DAY CELEBRATIONS
MEAFORD
Enjoy the live band "May Contain Nuts" on Friday night, the farmers' market, adult & kids games, log sawing, tug of war, horse race, bowling, pancake breakfast, flag raising ceremony, birthday cake cutting and more on Saturday, fireworks on Saturday night, and an evening concert on Sunday. More Info
JULY 1
CANADA DAY IN CREEMORE
CLEARVIEW
Celebrate Canada Day in Creemore with a Canada Day brunch, ball hockey tournament, BBQ, kids bike parade, Olde Thyme games, 3-legged egg and spoon race, water balloon toss, lawn bowling, ring toss & bean bag toss, Canada Day cake cutting, live band, singing of the national anthem, the Steve Baker magic show, and fireworks at dusk. More Info
JULY 1
COLLINGWOOD RETROSPECTIVE: 150 YEARS OF INNOVATION
COLLINGWOOD
The Collingwood Museum presents: Collingwood Retrospective: 150 Years of Innovation, community exhibit opening. More Info
JULY 1
CANADA DAY IN WASAGA BEACH
WASAGA BEACH
Don't miss the spectacular Fireworks show at dusk! The Town of Wasaga Beach in partnership with KICX Country 106 is hosting a Canada Day 150th event you do not want to miss. Experience Canada Day's Summer Throwdown on Canada's longest fresh water beach featuring country music artist, Tim Hicks and the Chris Buck Band. More Info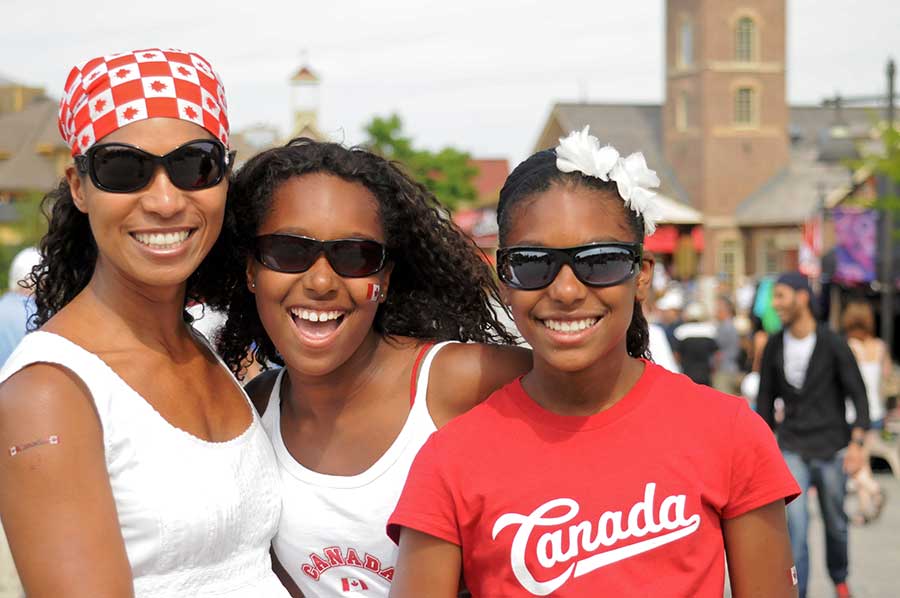 JULY 1 - 3
CANADA LONG WEEKEND AT BLUE
THE BLUE MOUNTAINS
Canada turns 150 to live music, Canadian flag cake, guided hiking, family activities and fireworks. More Info
UNTIL JULY 15
MILLION DOLLAR QUARTET AT KING'S WHARF THEATRE
SURROUNDING AREA
Million Dollar Quartet is the hit musical inspired by the legendary 1956 recording session at Sun Records in Memphis. History was made when an extraordinary twist of fate brought together then-rising star Johnny Cash, unknown Jerry Lee Lewis, veteran musician Carl Perkins, and chart-topper Elvis Presley for the first and only time. More Info
ALL SUMMER
SUMMER CAMPS FOR KIDS
Find the perfect summer day camp for your kids this summer. There is a multitude of quality summer day camps for children, offering a range of innovative programs. Wilderness and nature camps offer children the opportunity to connect with nature and spend many days in the great outdoors or on the water. Theatre camps offer the opportunity to learn a new skill, play dress up and have fun with a whole group. More Info
ALL SUMMER
SHOP AT THE FARMERS' MARKET
Sip and savour iconic South Georgian Bay creations and discover delicious farm-to-table produce and ingredients authentically grown or made by our local producers. Get a list of the weekly community farmers' markets here. More Info
http://www.visitsouthgeorgianbay.ca
download the free Adobe pdf reader at
get.adobe.com/reader
All documents found on our website can be made available in other accessible formats where practicable and upon request.